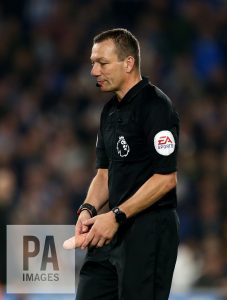 Premier League referee Kevin Friend ended up a laughing stock as he removed a missile thrown on the pitch by travelling West Ham fans at the Amex stadium as the Hammers lost 1-0 against Brighton and Hove Albion last night.
The missile in question was a rubber dildo allegedly chucked on the pitch by from the away end behind the goal by frustrated Hammers fans but the referee's unusual handling and unfortunate placing of the object in question bought howls of laughter from West Ham fans embarrassing the poor man in black.
It might take a little while before Mr Friend lives this one down.