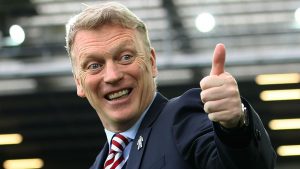 By Clive Budd
West Ham United Football Club's turbulent season is finally drawing to a welcome close.
Fans, owners and players have been getting on each others' backs and after some awful performances, everybody wants to put this campaign behind them and come back stronger next season.
West Ham have gone through their fair share of managers in recent times, with Slaven Bilic starting the season at the helm only to be sacked in early November and replaced by David Moyes.
Moyes had a point to prove after his well-documented failure at Manchester United and a less than successful stint at La Liga club Real Sociedad.
His achievements at Everton, where, during his 11-year tenure at the Toffees, turned the club into a stable top eight team still needs to be applauded.
He unearthed few gems in the form of Seamus Coleman and Dan Gosling and the Hammers have looked for the same especially with the club's track record when it comes to producing youngsters – notably Declan Rice so far – given the relatively modest budget.
Where's it all gone wrong?
Official attendances at the London Stadium passed 1million recently despite the dislike of the Stadium by many.
Tension between owners and fans has boiled over and results haven't exactly gone to plan on the pitch with the club in and around the dreaded drop zone all campaign.
The factors above of course contribute to West Ham's downfall, but less than inspiring recruitment always meant a tough season lay ahead. Most West Ham fans would argue that it shouldn't have been this bad.
The move was intended to take the club to the next level and enable them to attract big names and deliver a few signings that'll put bums on seats. Arnautovic aside, have the club's hierarchy delivered on that promise? Probably not.
Looking Ahead
The Hammers head into their final fixture of the season with safety secured.  Judging by some of the events that have unfolded at the club this season, relegation wouldn't really have come as a surprise, but if you look at the size of the club and the bold announcements made to fans, then it would have been a shock.
While the battle for survival has in theory gone done to the last season, Swansea are all but down, as reflected in the football betting predictions.
West Ham fans can't have enjoyed their second season in their new home. With off-the-field issues hogging the limelight, on-the-field success is craved. With survival secured, this season will be followed by a period of self-reflection rather than celebration.