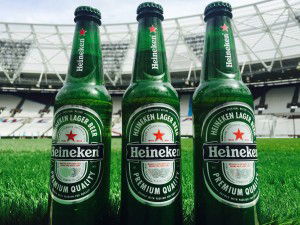 West Ham has announced a five-year partnership with dutch brewer HEINEKEN.The long-term deal will see HEINEKEN become the Club's official beer and cider partner at the London Stadium on Queen Elizabeth Olympic Park until 2021.In addition to Heineken, supporters can enjoy some other beers and ciders including Amstel, Foster's, Birra Moretti, Bulmers and Strongbow. Draft and bottles will be available throughout the Hammers'  new home on the concourses.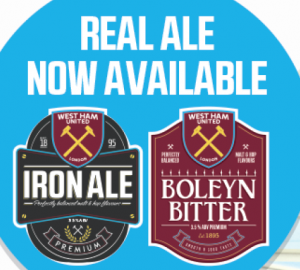 West Ham United Vice-Chairman Karren Brady said: "Today's announcement represents another high-profile partnership for West Ham United with a truly global, best-in-class brand. You need only look at HEINEKEN's partnership portfolio to understand the scale of the business and with over 150 years' history behind them, they, like us, have a rich heritage too. HEINEKEN boasts a proven track record of enhancing the supporter experience at stadia and events around the world and we look forward to working with them at our spectacular new Stadium."
Yesterday, West Ham also announced two real ales would be available named Iron Ale and Boleyn Bitter.
The London Stadium website lists 20+ bars kiosks serving a range of alcoholic beverages including Real ale, wines, cider and premium beer. 12+ Real ales bars around concourse serving traditional ales sourced by our brewery. Grill kiosks serving burgers, chicken wraps and award winning Wicks Manor sausages along with beers, soft/hot drinks. Street food kiosks serving Stir-fry's, burritos and carved meat sandwiches along with beers, soft/hot drinks. All kiosks inside the stadium accept debit/credit cards along with Apple pay.
However, the drinking will have to wait for now as tomorrow is a dry run in more ways than one, UEFA forbid alcohol to be sold before during or afternoon Europa League matches.