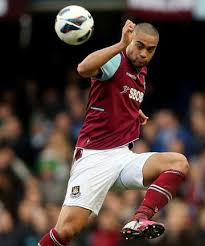 Winston Reid was back in training today for the first time since breaking his ankle in November and making it clear the team now has no excuses for failure
The Chelsea game on Wednesday evening will come a little too soon for him despite earlier hopes of a place on the bench.
But  he said: "It is a big relief to be back after three months out and I will try to work hard and get back in the team as soon as possible.It wasn't a serious injury  but it just takes time to heal unfortunately."
The current Hammer of the Year is confident that West Ham can get out of trouble saying: "The staff around us can only do so much, but at the end of the day it is the 11 that go out on the pitch that have to do the job."
He's not sure of a return date adding: "If I could, I would want to go out there and play on Wednesday, but that is probably not realistic.
"We will just have to marry what the physios say with what the manager says and see how my ankle feels day by day."
Reid has already suffered the bitterness of relegation at West Ham where he was unable to do anything about it after being frozen out by manager Avram Grant, now he is determined to play his part.
He said: "It is going to be a big 16 games and it is certainly not like it was last season. At this stage we were pretty much safe, but it is not going to be like that now.
"We have put ourselves in this situation and we have to get ourselves out of it, but if we all do our jobs correctly and give it 100 per cent then I think we will be ok.