By Gonzo
The Premier League sack race shows no signs of relenting as reports emerge that Leeds United have relieved manager Jesse Marsch of his Elland Road duties.
His dismissal follows an unlucky defeat away to Nottingham Forest, which saw Leeds lose by a solitary goal despite dominating the game.
In a bizarre twist, former candidate for the West Ham job, Carlos Corberán has emerged as favourite to land the managers job at the Yorkshire club. 
Leeds currently reside in 17th place in the Premier League, topping Everton by goal difference alone. Clearly the Elland Road board have witnessed the 'new manager bounce effect' at Goodison Park and decided to act fast.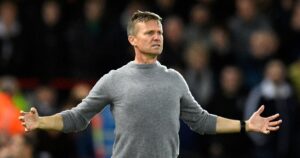 The Toffee's got a surprising victory against a run-away Arsenal team following the appointment of Sean Dyche. Clearly a number of clubs in the bottom half of the Premier League are becoming nervous and desperately doing anything they can to avert the dreaded drop.
West Ham have so far held their nerve by publicly and privately backing manager David Moyes. We can only hope that decision proves to be the correct one, but it's clear there is mass panic amongst some of our rivals as clubs jockey for league position.