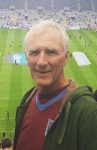 By Allen Cummings
Please don't take this as negativity… I'm never that when it comes to West Ham -the very opposite in fact.
But  I want to pose the question – given what's going on at the bottom of the table, just how many points will represent a reasonable relegation safety target – 15, 20, 25, 30?
Because if Huddersfield, Cardiff and Newcastle keep going on at the present rate even that may be a big struggle!
Derby County hold the unenviable record for the Premier League's previous lowest ever final points tally. Their 11 points in the 2007-2008 season came from just one win and eight draws – with 29 defeats.
But based on totals and averages so far this season, either Cardiff City or Huddersfield Town, or both, could surpass that.
At the moment they occupy 20th and 19th spots in the league respectively, with just two points from their eight games played, an average of 0.25 points per game.
If they maintained that ratio over the rest of the season it would give them both under 10 points each (9.5 to be precise).
Newcastle , currently third from bottom on three points, based on the present ratio of 0.375 points per game, would finish on 14 points (14.25 to be exact). So on the basis of that we are bang clear of all worries – ALREADY 🙂
With seven points from eight games we are averaging of 0.875 points per game. Multiply that over the 38 game season and come next May we will end up with a final tally of 33.25 points (33 or 34), take your pick.
Obviously we will all be hoping to achieve a few more than that  – particularly as following our difficult start to the campaign, it's finally begun to look as if Manuel Pellegrini's philosophy is beginning to take shape.
Thankfully football doesn't always bow to stats and predictability. It's why we love it so much. The one certainty is there will be 'unpredictability' ahead. There always is.
But at a time when we don't have any 'proper' football to get our teeth into – a little indulgence into the world of 'fantasy football' can be quite intriguing!
And never forget – Derby County 10 years ago – 11 POINTS!