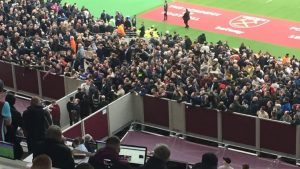 West Ham insists that only one season ticket holder has been relocated due to new security measures brought in by Newham's Safety Advisory Board.  A West Ham insider told Claret and Hugh that the disabled season ticket holder in question has accepted a free place in hospitality for the remainder of the season.
Other disabled season ticket holders located in front of the director's box have been told yesterday that there no requirement for them to move.
Newham's Security Advisory Board told stadium operators London Stadium 185 to bring in extra stewards to guard the pitch against invasion and also extra stewards in other stands which will be further supported by police officers in and outside the London Stadium.
The West Ham insider told C&H that there would be several barriers around the stadium to prevent the uncontrolled movement of supporters seen at the Burnley game and that the barriers were a condition of the SAG to give the go-ahead for Saturday's game against Southampton.