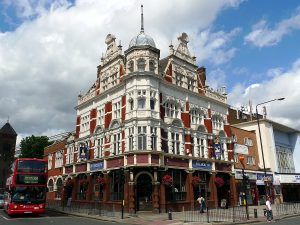 Remarkable Pubs has acquired the freehold of the Boleyn Tavern in Barking Road. The move takes the pub group to 15 sites. Elton Mouna, MD at Remarkable, said 'The Boleyn Tavern is an imposing Victorian Grade 2 listed corner pub fitting wonderfully into our portfolio of quality heritage London pubs'.
The pub was previously put up for sale in 2012 for £395,000 for a 25 year lease. The lease later thought to have been for sold £250,000 after West Ham signed a contract to move away to Stratford.
In 2016 the new owners asked football regulars to pay £120 annual membership to stop the pub being closed down. The membership fee was supposed to fund private coaches to the London stadium on home match days but the scheme never really took off. The Boleyn Tavern will now enter a new era under the Remarkable pub chain.
Managing Director Elton Mouna said: "I am delighted to announce on behalf of chairman Robert Thomas and family, after fractious negotiations, we have exchanged contracts on the Boleyn Tavern. Sincere thanks go to agent AG&G, the sterling work of Naomi Jones of Solicitors' TV Edwards and the Remarkable Pubs headquarters team led by Liz Pallace"