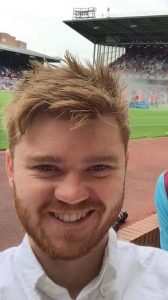 I know there has been many requests for a minute's applause at the London Stadium this season. A week doesn't seem to go by without some tragic news of a West Ham fan life ending far too soon.
The club always insist these tributes must be fan led rather then club led although they remain happy to be ready to put up photos on the London Stadium big screens if the crowd break into spontaneous applause at the allotted time.
Today we were touched to hear another tragic tale of one of our own who passed away suddenly and unexpectedly at the age of twenty five last Thursday. His good friend Grant contacted us asking to promote a minutes applause on the 25th minute on Saturday while telling us about his mate Danny.
Grant told us: "I was a friend of Danny's – we were very close, speaking daily and seeing each other most times at least once a week. Danny's first Hammers game was in November 1998 at the age of 6, with his dad, Jeff and brother Steve. West Ham played Leicester city and won 3-2.
"Danny had just turned 25 years old on March 3rd. Danny and I have been going to West Ham together for just over 10 years. Our first season tickets were in 2007 at the age of 15, but we had been going to games before this too. We have been season ticket holders on and off since, and I'd estimate we'd been to about 200 games together (including some away) – our last away game together was up in Liverpool in December 2016 where the score finished 2-2."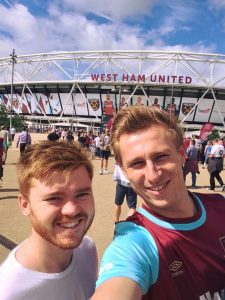 "Danny and I both agreed our favourite away day was Goodison park in March 2016 (Dan's birthday weekend) where we were 2-0 down in the 79th min and won 3-2. We stayed for half hour after the game with hundreds of West Ham fans singing in the stadium. It was a great day. We also were able to use the trip to visit his girlfriend in Liverpool, so it really was the perfect weekend for him."
" As for our Match day ritual on a weekend, we would often meet a few hours before the game for a fry-up in Hornchurch or Elm Park. We would then head up to Stratford and go to a pub near the ground (we were in a period of trying different pubs every week because of the recent move, but at Upton Park we used to go into Queens or The Boleyn regularly. We would also meet Danny's brother and friend for pre-match drinks, and sometimes family on my side. We would go into the bookies and get our scorecasts on for the game."
"Danny had no illness. He had gone to the West Ham v Chelsea game Monday night and dropped me off home after this, which is the last time I saw him before receiving the terrible news Thursday.  We were all talking on the group chat on the Wednesday night about the Barcelona v PSG game – Dan was talking about some of the bets that he'd seen people had won, and sent his last message at 23:07. We were told that he passed away in his sleep around midnight."
"Danny was a current season ticket holder sitting in block 130 at the London Stadium".
Please remember Danny on the 25th minute by joining in a minute's applause.