We are suffering hard and worrying times so let's give ourselves a little break and cast a look back down memory lane at the great Hammers.
Here guest columnist and life long John Clancey names his top eight!
By John Clancey
When you back your team in London, you really back your team. If you are a Hammer, this loyalty is more  a lifestyle than a passion. The team in claret and blue are a religion. It is, therefore, appropriate to take a look at the footballing Gods who  have graced the game for West Ham. Here's my list of the top eight players of all time.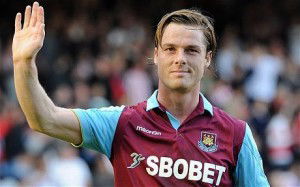 Scott Parker
Scott Parker is a passionate man. He hits hard and pushes hard for the victory. He joined the Hammers in 2007, signed from Newcastle and his attitude made him an instant hit. With some strong tackles and intelligent passes, Parker was central to organising the midfield. Even though the team were relegated, he followed his team and continues to give match-winning performances in the Championship. He will get the team to the top flight again.
Martin Peters
The fact that Peters has a World Cup Medal in his trophy case should alone result in his place in the hall of legends. However, there is a reason he was selected for such a talented England team. He was an amazing athlete and was able to play most positions on the pitch. His versatility made him a vital squad member. The memory of this great player may have been blackened in the memories of Hammer's fans with his four years at Spurs at the end of his career. Yet, he still deserves the tag of a legend of West Ham.
Carlos Tevez
Small, snappy, relentless – Tevez was a superstar of the world game and West Ham was lucky to have his services for a good few seasons. Hammers are divided about Tevez, as he is the reason the club struggled financially. However, he was a one-man machine delivering West Ham out of relegation in 06-07. He earned his money in the amount he saved the club by being ditched to the Championship.
Billy Bonds
Bonds played at a time when men were men and the shorts were very short. He was a legend of Upton Park with 21 seasons as a player and then went on to manage the club. The claret and blue were running through his veins. He played the most games for the club ever – making a stunning 793 first-team appearances. He was a savage player and showed little remorse in his tackles – we are not sure how long he would last on the pitch in the Premiership now with VAR and soft-lad tackles.
Geoff Hurst
The name is enough to justify the decision. World Cup winner and West Ham player for 13 years – the name of Hurst still rings around the ground every match day. He often turns up for games and receives a standing ovation from the loyal fans every time. Undoubtedly, one of the top goal-scorers of the English game of all time.
Paolo Di Canio
Di Canio should be called Hammer Man. His stubborn, relentless and cheeky character personifies West Ham to the core. He only spent four seasons at West Ham but in that time he imprinted on the passionate Hammer supporters. Although his football was stunning, it was the lively and fun approach to life that endeared him to supporters. You may find it surprising that someone who was only briefly with the team deserves such a prominent place in this list. However, take a look at the goal he scored against Wimbledon in a West Ham shirt. It is widely regarded as one of the best goals ever scored in the Premiership.
Trevor Brooking
We should really introduce him by his full title – Sir Trevor Brooking. He made 636 appearances for the club and scored 103 times. He has managed the club twice and is still influential behind the scenes. He was an intelligent player, a good footballing brain, as the pundits like to call it. He was also a gentleman on the pitch with an exemplary disciplinary record. However, his true legend status was secured when he had a stand named after him at Upton Park. This is hard to achieve when you follow in the footsteps of Bobby Moore and Geoff Hurst.
Brooking has not done bad as a football pundit through the years either. His smooth style and friendly insights have made him a favourite with match day viewers.
Bobby Moore
Speaking of Bobby Moore – he should definitely top this list. It is not even up for debate. Sir Bobby Moore will always be the greatest player ever to put on the West Ham shirt. He was a true gentleman on and off the pitch and became a role model for millions of aspiring football players through the years.
Moore captained the club for 10 years and was a World Cup medal winner. He also managed an amazing performance marking Pele – which speaks volumes of this man's class. He also made a stunning tackle on Jairzinho that is still spoken about in pubs across London. It was perfect.
He is the greatest Hammer of all-time and long may he reign.