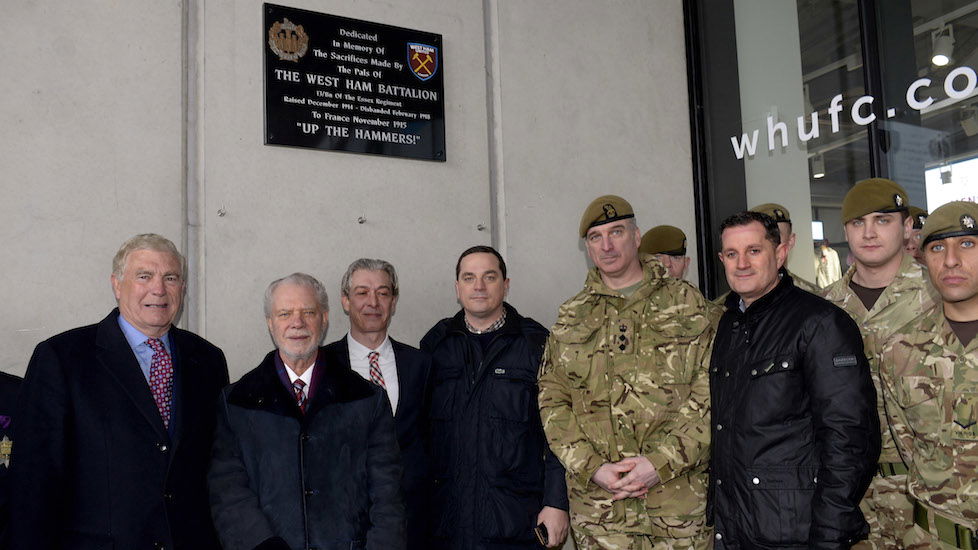 This Remembrance Sunday at 11 am please remember the 1,000 West Ham Pals killed in the first world war.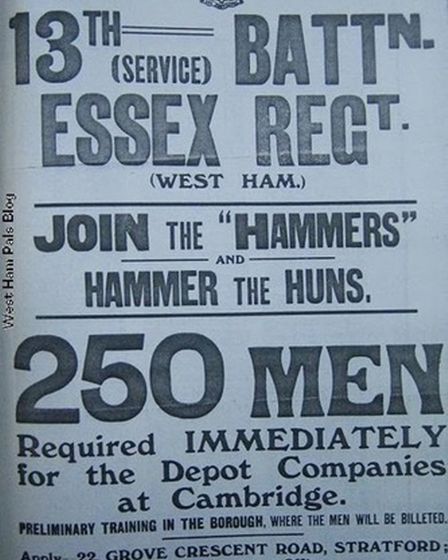 One of the reasons why the First World War was so traumatic was that so many of the new infantry Battalions formed to fight in the trenches were the so-called "Pals Battalions".
This was wWhere men could serve with local friends, neighbours or workers.
The West Ham Pals were officially called the 13th Battalion of the Essex Regiment. Unofficially they were West Ham football team supporters who joined en masse with their mates and whose battle cry (and bayonet charge) was "Up the Irons".
The Battalion fought in some of the worst battles in the Somme, Vimy Ridge and Cambrai during the War and suffered many causalities with many killed, wounded or missing.
The impact of all these deaths and casualties in battle on the local community was therefore immense. About one-quarter of the original battalion volunteers were killed and nearly half  returned to UK with severe injuries
This poster above was issued to help recruit for the Reserve Company of the West Ham Battalion. Formed at Brentwood in September 1915 they undertook their training in Cambridge and after a few men were initially sent as replacements to those men who had been killed in December 1915, the unit became the 14th (Reserve) Battalion of the Essex Regiment under the command of the Mayor's son, Captain Leo Dyer.
Sergeant Laurie Legg MM (right) was an Original volunteer to the West Ham Battalion. Born in Leytonstone and growing up in Walthamstow, he lived at home with four sisters in Forest Road
The West Ham Pals website can be found here