F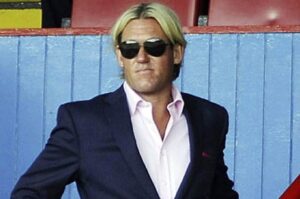 ormer Palace owner and rent-a-gob Simon Jordan told talkSPORT listeners that all Premier League players should take a mandatory wage cut for 90 days.
And that, combined with money added from elsewhere, creates about a £300 million fighting fund.
He says that would help the smaller Championship, League One, League Two survive the financial chaos facing football with no income streams.
Premier League clubs might have other ideas and believe charity starts at home hoping they would cut their own losses with any reduction negotiated with the PFA.
West Ham alone are paying up to £3m each and every week in wages and with no ticket money, no club shop and no TV money coming in the other way losses will soon cripple the Hammers like any other business in the same situation paying out with no income stream.
Premier League players are in a privileged position and could afford to take a temporary cut but who benefits may be a more contentious debate.