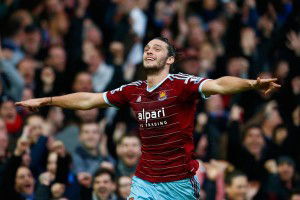 Andy Carroll looks more likely to be out for six weeks minimum than the fortnight originally thought likely.
The Telegraph – which has a habit of getting Irons news correct – is reporting tonight that scans on his latest knee injury have revealed he will be sidelined until the end of March at the earliest.
His appearance as a substitute marked his first appearance since January 31 but he is now facing further frustration after a scan on Thursday.
Sam Allardyce, the West Ham manager, is expecting to be without Carroll for between six to eight weeks.
He said after the game: "It's the same knee, he got kicked in the back of the knee and felt something wrong.
"He stayed up and was a nuisance. I just hope that staying on hasn't done any more damage.
"He got fit in two and a half weeks after Liverpool but clearly it's going to take longer this time because it's the same injury."