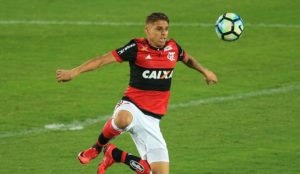 South American journalist Gustavo Henrique Dando Choque claims that a deal has been done by West Ham in principle to sign Colombian midfielder Cuéllar Gallego.
The 26-year old plays Brazilian side Flamengo and the local reporter says Callego will sign a contract with West Ham in July after the Copa América. He claims the deal is all settled between the two clubs but not signed. The player will receive two million euros (£1.7m Signing on fee), and Flamengo will receive a 28 million euros transfer fee (£24.3m) which will be paid in 3 instalments. The player could stay with Flamengo until December according to the report by Gustavo.
Gallego joined Flamengo in January 2017 for £1.62m from Deportivo Cali. In June 2018 Cuéllar extended his contract with Flamengo until June 2022, this new contract raised his release clause from €50m to €70m.
Gustavo played for Colombia U17 in the 2009 FIFA U-17 World Cup, he appeared in all seven matches and scored two goals, both against the Gambia in a 2-2 draw, as the team finished the tournament in fourth place. He also represented Colombia U20 in the 2011 South American U-20 Championship, he had five appearances and the team finished the tournament in the sixth place.
In 2015 Gustavo debuted for Colombia's first team as a starter in a 1-1 draw against Peru.