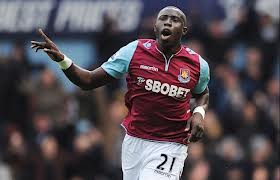 Breaking news that Mohamed Diame has allegedly demanded parity with the club's highest earners will come as little surprise to those who have been monitoring his on and off field performances this season!
Our friends over at www.kumb.com are reporting the Sengalese midfielder as wanting the same £70k pay packet as Andy Carroll.
It comes at a time when Claretandhugh has regularly been told by numerous club insiders: "He's playing like a bloke who wants to get away."
Does he honestly think he will get that elsewhere. The answer of course is a big fat NO!
That's the sort of wage held down by Manchester City's Micah Richards and other players at top six clubs.
Diame's performances this season are lack lustre, inconsistent and often moody yet like others before him he appears to have an inflated opinion of his own abilities.
And as KUMB report: Two months ago he insisted that he wanted to remain at West Ham for several years, with the impending move to Stratford a major lure.
He said: "I imagine myself playing at the Olympic Stadium and I hope to sort my contract as soon as possible to make sure I play there," he said.
"With the transfer window [looming] we will start to talk. At the moment we are not talking, but I hope it is possible soon."
Now it seems the talking is unlikely to start for anybody who reckons he's a £70k a week should be running a greengrocer's shop – not a football club.