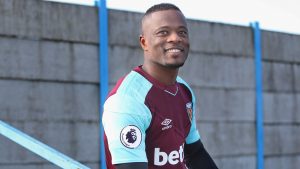 Patrice Evra has revealed his shock at the discrimination he claimed he witnessed against gay players whilst he was at West Ham four years ago.
Evra speaking on a Youtube video called 'What Patrice Evra did next?" has discussed the issue at the time a World Cup is about to be played in Qatar where homosexuality is illegal.
But if there was any doubt that such prejudice is continuing in England Evra's words will sound a warning that all MAY not be as tolerant in this country as some want to believe.
The former Manchester United full back joined the Hammers on loan in 2018 playing making five appearances for the club but that was apparently long enough for him to see things of which he intensely disapproved.
And he has had no hesitation in offering his views claiming too that there are at least two gay players at most clubs in the country.
He explained: "When I was playing for West Ham, someone from the English football federation came and talked about the subject and said you have to accept everyone, you could see in the room some people were going crazy and mad and said if someone is gay they have to leave. I stood up and silenced everyone, can you believe in 2020 at the time we still can we are going to reject people, it's not fair"
Previously  Evra told Le Parisen: "When I was in England, they brought someone to talk to the team about homosexuality. Some of my colleagues said, 'It is against my religion, if there is a homosexual in this locker room, let him leave the club' and other comments. At that time, I said, 'Shut up'. I played with players who were gay. Face to face, they opened up with me because they are afraid to speak otherwise. There are at least two players per club who are gay. But in the world of football, if you say so, it's over."