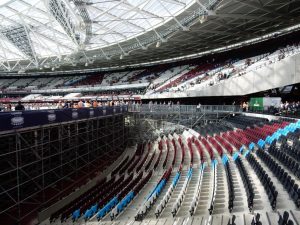 New media reports are emerging that fans could be allowed back into stadiums in September with the new season likely to kick off on the 12th of that month,
A cross-sport working group and the government on the stage five protocols – those governing the return of spectators to stadiums – and reports published by the Independent suggest that stadiums could be allowed to open up to 40 per cent of capacity.
Should the Hammers avoid relegation this season, then discussions will have to take place to see which of their season ticket holders would be given the opportunity of attending games in those circumstances
Were it to happen it would see around 24,000 being at games in the London Stadium but how the club and that presents a thorny issue.
Clearly masks, social distancing and temperature checking before entry could be among the protocols put in place and much will depend on infection rates as we enter the winter enter period when some medics are warning of a possible second wave.
The additional issue is of course the need for some to travel on public transport which may cause additional worries although most of those may be in the minds of fans considering a return.
Right now it would seem that many supporters will choose to stay away given that since the ease in lockdown restrictions the UK economy has risen by only just over one per cent as people continue to choose staying at home.