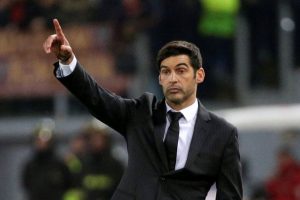 Reports from Portugal this afternoon suggest that Paulo Fonseca has turned down the chance deciding instead to renew his contract with Ukraine champions Shakhtar Donetsk.
The report on Ojogo.pt claims the Portuguese born manager has opted to extend his stay at Shakhtar with a new two-year contract.
Paulo Fonseca and his agent Jorge Mendes flew into Luton on Monday later meeting with David Sullivan for 75 minutes at his Essex mansion. If the news is true, questions will be asked whether the interview was some massive play by Fonseca and his agent to negotiate better terms with Shakhtar.
David Moyes ruled himself out of the West Ham job earlier today with an official announcement following on the club website. Those close to him claim that he was unhappy with the way he has been treated at the end of his contract.