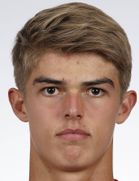 Club Bruges forward Charles De Ketelaere is the latest striker to be linked with the Hammers.
A report from  Calciomercato,suggests that he is being scouted and according to https://www.footballtransfertavern.com/ he is one of several names to come into the frame since new Hammers recruitment chief Rob Newman took over his new job.
But given the secrecy that David Moyes demands in his possible transfer dealing it's fair to take that with a pinch of salt  and instead accept that it's probably anothe piece of media speculation.
The 20-year-old  is capable of operating as a second striker or, like many, as an attacking midfielder, is attracting interest from such clubs as Napoli, AC Milan and Everton all eyeing a move.
So far this season  the player -who is valued at around £20 million – has bagged four goals in 12 games for Club Bruges and having signed a deal to stay at the club earlier this year until 2024 won't come much cheaper.