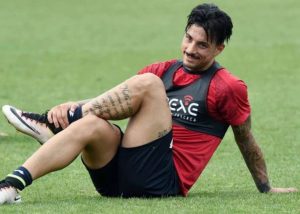 West Ham are in talks to sign Genoa defender Armando Izzo Sky Sports claim
Izzo joined Genoa from Serie B side Avellino in 2014 after beginning his career with hometown club Napoli. The 26-year-old's performances this season have seen him linked with a number of Serie A clubs despite his current deal running until 2022.
Izzo was previously banned for 18 months and fined 50,000 euros (£42,972) in 2017 for failing to disclose a match-fixing agreement when at Avellino in 2013-14. Italy's Federal Appeal Court later reduced the ban to six months and 30,000 euros (£25,783).
"It was a hard year, a year in which I suffered a lot," wrote Izzo on Facebook after the result of the appeal was published last year. "But I was never afraid, I have always been confident in my honesty and I have never stopped fighting for the truth."