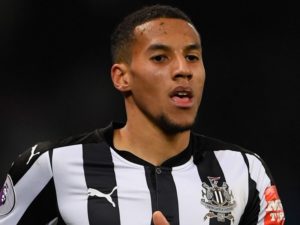 Newcastle midfielder is Isaac Hayden is on West Ham's potential new player lists for the new season with Jonjo Shelvey still not entirely out of the picture.
Hayden was keen to leave Tyneside last summer to be closer to family who live in the south west.
According to The Chronicle his one year old daughter is under supervision for regular medical attention and he would very much appreciate a West Ham move..
Like Shelvey his position is entirely on hold at the moment given the confusion surrounding Rafa Benitez's future with he and owner Mike Ashley, talking om phone and by e mail but with no confirmation that he will remain in charge.
The relationship between the pair hasn't been the best over recent months with the Spaniard reportedly unhappy with the cash available for transfers.
And that also affects the situation with a third Hammers target Salamon Rondon where a £16.5 million release clause is involved should the Magpies want to sign him which they are reported regularly to be interested in doing.
Benitez's deal runs out on June 30 and whilst the uncertainty continues there is unlikely to be any movements in or out of Dt James' Park.
Hayden is prominently a defensive midfielder who had 25 appearances for the Magpies last season with four assists one goal and 1 red card, he is also capable of playing at the centre back or right back role as well.
His transfer fee is believed to be around £7m.