West Ham could finally sign Nikola Milenkovic this summer, according to a new report.
The Hammers have been heavily linked with the Fiorentina centre-back in recent years and were said to have made an attempt to secure his signature last summer, before eventually buying Kurt Zouma from Chelsea.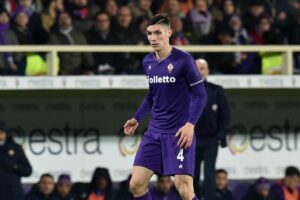 Milenkovic is approaching the end of his contract with the Serie A club, though, and his deal will expire next summer.
As a result, there appear to be a number of clubs considering a potential swoop for the centre-back, as he may well be available for a knock-down price.
Per Fiorentina News, the Hammers are again said to be in the bidding to secure his signature, along with AC Milan and Juventus.
Fiorentina haven't given up on convincing him to sign a new contract but Milenkovic is said to be keen to play in Europe, with the Hammers leading the pack amid their Europa League charge.