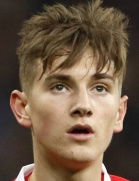 West Ham's faint hopes of becoming involved in a chase for Bournemouth's highly skilled David Brooks would appear to have hit the skids.
Liverpool boss Jurgen Klopp has reportedly entered the fray and is claimed to have offered £35 million for the Welsh international who is probably the 'most wanted' player in the relegated Cherries pack.
CandH understands the Hammers held an interest but there is no real possibility of the 23 year old arriving at the London Stadium with the big hitters lining up to tempt him.
The Daily Mail reports that Brooks is a highly fancied replacement for Adam Lallana and although he was restricted to just nine appearances last season he has shown enough to demonstrate he is a gifted high quality player.
It is not a disaster for the Irons as they have Jarrod Bowen down the right wing and David Moyes will now continue to set his sights on the priority central defensive requirement.