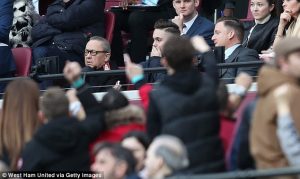 A report in the Daily Mail today claims that West Ham could have their home capacity reduced for their next home match at the London Stadium.
The tabloid claims "West Ham now face the major threat of having their stadium capacity reduced for their next home league game against Southampton on Saturday after four separate pitch invasions." 
However, with 52,000 season ticket holders at the former Olympic Stadium and up to 3,000 away fans the options may be limited for such a sanction to be considered. Less than 2,000 general admission tickets go on sale for each Premier League game so realistically capacity could only be reduced from 57,000 to 55,000 without randomly selecting season ticket holders to miss a game.
West Ham remains in legal dispute with stadium owners London Legacy Development Corporation over an increase in capacity to 60,000 but that court case will not be heard until later this year.
A heavy fine by the F.A with the possibility of a suspended home game being behind closed doors remains the most likely punishment for West Ham.