By Gonzo
Real Madrid have withdrawn their interest in for Hammers captain Declan Rice, as they've accepted he wants to join Arsenal, according to Spanish publication El Nacional.
During the World Cup in Qatar Rice stated his ambition to be playing regularly in the Champions League, which alerted many of Europe's leading clubs including Madrid.
However it is believed they have cooled their interest having received 'concrete assurances' that the England midfielder will be joining Arsenal.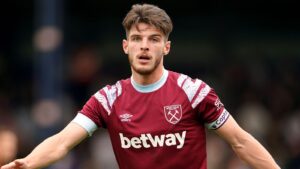 Quite how serious the Spanish giants were about acquiring Rice is uncertain, but it's a slightly concerning report considering the origins of the story. The English media has been rife with the news that West Ham's captain has chosen Arsenal,  but this particular report is clearly from a separate source.
The fact that media outlets close to continental clubs are now being briefed on Declan's chosen destination, would indicate his mind has been made up.
As I mentioned previously, it's crucial West Ham don't accept The Gunners first offer. By declaring his intention, Rice has given arsenal an excellent negotiating position. It's imperative we are not bullied into accepting less than his market value.