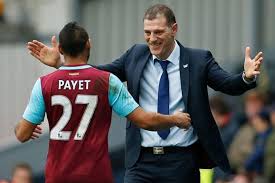 Reports from the French media claim Marseille are facing a financial crisis and must sell players including Dimitri Payet.
"Marseille are facing a potentially humiliating scenario," GFFN reported.
"(The club) must sell (players) before end of June (Financial Fair Play)."
West Ham has yet to be linked with a move for the former Hammer of the year but I am sure it only a matter of time until some media outlet says we have interest in him.
The three clubs in England who have been linked so far are Everton, Leeds and West Brom. The later two have a West Ham connection. Leeds CEO Angus Kinnear was managing director of West Ham during Payet's time at West Ham and West Brom is now managed by Slaven Bilic who bought Payet to the West Ham while manager.
West Ham sold Payet to Marseille for £26.3m in 2017 but reports suggest the 32-year-old could be available as little as seven million Euros (£6.25m) this summer to get his huge wages off the Marseille wage bill.
He is said to earn £109,000 per week in French making him one of Ligue one highest earners.