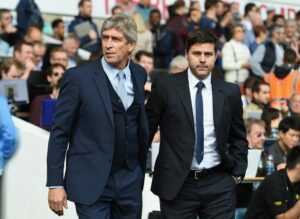 Media reports claim that West Ham is keen to bring in former Spurs manager Mauricio Pochettino as they look to find the man to replace Manuel Pellegrini as time runs out for the 67-year-old.
An initial report by the Daily Star has since by repeated by the BBC and Sun newspaper that West Ham have interest in Pochettino.
West Ham have lost seven of their last nine and are just one point above the relegation zone leaving the Chilean with one game on Saturday evening to save his job
But Pochettino has rebuffed West Ham's advances and maintains he won't be taking any job until the summer, reports the Daily Mirror .
Spurs sacked the Argentine last month after more than five years and he has already been linked with a host of vacancies around Europe.
Signing Pochettino's would have been among the greatest signings in West Ham's history with Arsenal and Manchester United supposedly keeping tabs on the 47-year-old.