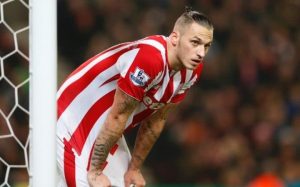 West Ham will need to pay £24 million if they want to take Marko Arnautovic from Stoke City.
That's the assessment of Hammers season ticket holder and Daily Mail Head of Sport Lee Clayton who produced an interesting tweet on the situation this morning.
Clayton said that another £4m could be enough to seal a deal for the Hammers.
He explained: "Latest on Arnautovic and #WHUFC­­ ‑­ WH confident they get him. Stoke have 20pc sell-on clause to Werder and demand clearing 20m. So 24m+ fee."
And a report in the local 'paper – the Stoke Senitel -says: "Potters chairman Peter Coates has acknowledged Arnie could be allowed to leave if the price is right, while the player's agent and brother, Daniel Arnautovic, claims promises made when the 28-year-old signed a new four-year deal with Stoke last summer have subsequently been broken, prompting him to submit a transfer request.