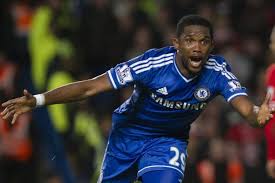 West Ham's reluctance to pay Samue Eto'o an wage of between £85,000 – £120,000 a week may not be shared by Spurs.
For according to reports this morning, new White Hart lane boss Mauricio Pochettino is apparently keen to starrt talks with the player and his agent.
Eto'o is reported as saying this morning: "Ideally I want to be playing European football next season and staying in London."
And sources close to him added that talks have been going on with West Ham all week but a Spurs move interests him more as they can offer European football and play a more expansive game than the Irons.
However, it's probably nearer the truth to explain that the Hammers are unready to make him the club's top earner as he managed just nine goals last season for Chelsea and they were all in games he started.
At the wages being demanded the hammers appear to be correct in giving this one a swerve at the costs involved.