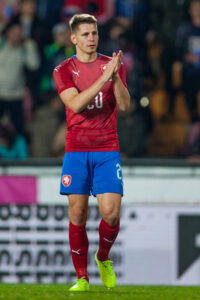 Czech website iSPort have claimed that West Ham have tabled a £5million offer to sign Slavia Prague winger Lukas Masopust, who played in the Champions League alongside Hammers Tomas Soucek last season.
The 27-year-old right-sided midfielder started all six Champions League group games and even laid on an assist against Barcelona.
Last season, he had a hand in 12 goals during his 37 league and cup outings helping Slavia win the domestic league.
Another former teammate of Tomas Soucek has also been linked with a move to West Ham with Slavia Prague right back Vladimir Coufal's saying it would be his dream to join West Ham according to i Sport.
Last week The Independent claimed that Hammers boss David Moyes wants to sign Tomas Soucek's former teammate for around £4 million this summer.
Another Czech player Patrik Schick has also been linked, the striker spent a  season on loan at RB Leipzig from Roma. Schick played a supporting role for top-scoring Timo Werner last season, with 10 goals and two assists from his 22 Bundesliga appearances to help Leipzig finish third in the German top-flight.
Football agent Pavel Paska told the Sport.cz  website"West Ham and I have exchanged only the first love letters. Now we will take a break and return to the negotiations after the holidays. To probe whether Slavia is asking for Masopust too much or too little,"
Paska got Tomáš Souček to West Ham and revealed he has spoken to David Moyes about other Czech players.
"He asked me about them. For example about Patrik Schick, for example Lukáš Masopust, but also about some other players. He wanted to know what Patrik looked like at the moment, he was also interested in Lukáš. I said that it would be good for him and me. If he came in. I'm glad I opened the door. Maybe Lukáš Masopust would deserve a transfer and I would very much like it. He's a great football player and a great boy, the engagement would help him and me. Our families also understand each other a lot, so we would definitely find housing somewhere close to each other, "