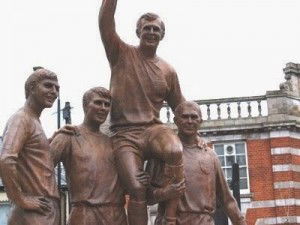 Local Newham residents have started a petition to Newham mayor, Sir Robin Wales asking for the World Cup sculpture containing Bobby Moore, Martin Peters and Geoff Hurst to be left on the corner of Green Street and Barking Road.
The petition by Cecilia Welsh says:
"We request that the World Cup Sculpture/Bobby Moore statue stays where it is when West Ham United FC moves to the Olympic Stadium.
The statue was commissioned by Newham Council and WHUFC and paid for by both, so the neighbourhood has a legitimate claim for it to stay here and we as residents and council tax payers a right to ask for it.
The spiritual home of WHUFC will always be here, in Upton Park, opposite the Boleyn Pub (a listed building). The statue should be here too, as a fitting memorial to WHUFC's position at the heart of this area and our community for over one hundred years.
So help save OUR statue, and protect the legacy it represents by signing this petition."
The petition has 318 signatures at time of publication and is backed East Ham MP Stephen Timms.