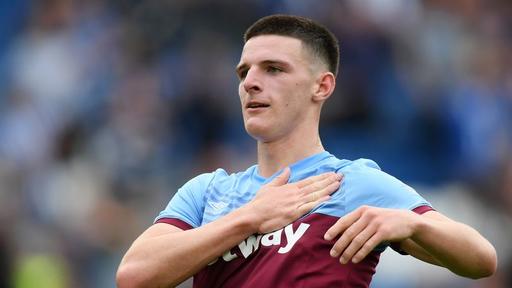 Declan Rice laughed and hide his face when he was taunted by a Manchester United fan to join his club.
'Declan, Come to United' the Red Devil fan shouted as the Hammers smiled and hid his face from the mobile phone footage.
Mischief makers in Manchester seem to do their absolute best to run wild speculation on an imaginary move for Declan Rice to Manchester United.
Two weeks ago it was a rumour of a swap deal for Delcan Rice for Jesse Lingard and two other Red Devils while another tale suggested Jesse Lingard plus some cash from the Manchester club.
Last week it was claimed that Declan Rice spoke to Harry Maguire and Luke Shaw about Manchester United whilst on international duty for England ahead of a supposed possible move to Old Trafford this summer.
As we have said before Rice is a family man settled in his new Surrey home so a move up north would be very surprising.
Sorry, Manchester United fans but you can't have him!
🗣 "Declan, Come to United!" 👀🔴

A Man Utd fan to Declan Rice – his reaction 😂 pic.twitter.com/q11PkuiEto

— United Zone (@ManUnitedZone_) April 22, 2021