West Ham hero Declan Rice can't quite believe that he scored the winning goal against Arsenal!
The midfielder enjoyed a fantastic performance against the Gunners, with his reading of the game and clean tackling setting him apart from his team-mates.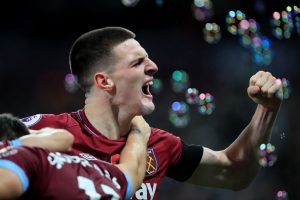 He missed a first-half header, nodding the ball wide after being found in the area, but he quickly atoned.
In the 47th minute, after a poor corner, the ball broke to Samir Nasri in the box, and he fed Rice, who sent a brilliant curling effort into the top corner, his first goal for the club
Rice wheeled away in genuine jubilation, seemingly disbelieving of his goalscoring prowess.
And he admits that he is struggling to comprehend his heroics.
He told Sky after the game: "I can't put it into the words. The lads are always on at me to take the shot on more.
"I have been getting into the box more recently and I was gutted with missing the header in the first half."
Rice also hailed captain Mark Noble, who he says has been a role model for him since he broke into the Irons' first-team.
He added: "I can't speak highly enough about Mark, he has helped me every day since I broke into the team three years ago with little pointers in training and whatever."