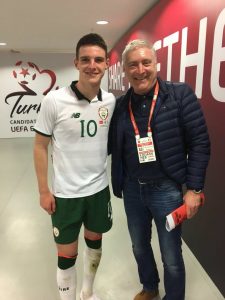 Hammer Declan Rice may be caught in a 'keep it in the family' affair as he attempts to come to a decision on his international future.
The Hammers midfielder has been reported as wanting to play for the country he grew up – England – but given his background it would be perfectly understandable were he to opt for Ireland.
His grandparents Jack and Margaret hailed from the Republic town of Douglas in Cork but moved to to England where his father Sean was born.
They were overjoyed to watch their grandson play for Ireland at U-16 level, but they both passed away two years ago within a fortnight of each other.
Declan was born and raised in Kingston, Surrey joining the Chelsea academy in nearby Cobham, Surrey from the age of seven only to be released by the West London side at the age of fourteen.
Earlier this year Rice told the Irish press: "I'm fully focused on playing for Ireland, there's no decision to be made. If I didn't want to be playing for Ireland, I wouldn't be here."
Since then, however, some reservations appear to have arisen following the show of interest from Gareth Southgate and it takes no working out that some hard talking has gone in within and without the Rice family
His father Sean who is a massive Chelsea and Irish football fan could well have a preference for him to stick with Ireland whilst his representatives may see more advantage in him switching his alliance to England.
It's a tough one but we hear that he is determined to be his own man and make his own decision rather than be swayed by the advice of anyone.