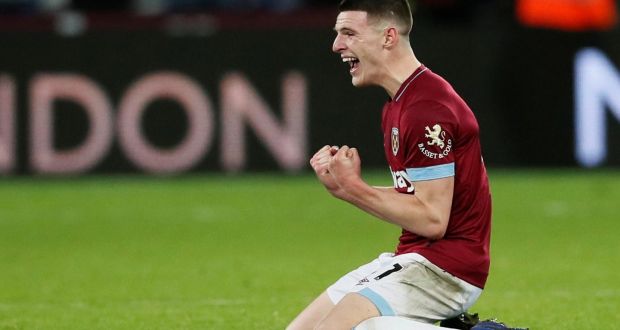 Declan Rice has been a Hammer long enough to know how he must see the  victory over Chelsea at Stamford Bridge -it's the West Ham Way of course
Irritating? yes…thrilling? yes…a tale of the unexpected? yes!
All ll the elements that go towards representing the club we have supported for so long.
He's also very aware that it can't end there – much more is expected on Wednesday night as we go to put it across Wolves.
Declan himself was in amazing form during a game that demonstrated the guts and spirit which have been in hiding for weeks were brought into the light.
And probably Mark Noble was as responsible for that as the manager who in fairness made some key changes to a team at back and front.
The skipper's choice of language was very much to the fore ahead of the game which finally saw the team demonstrate that it does really have what it takes and the confidence soared.
Commenting on the game at  he said: "It's typical West Ham in a way – don't win in eight and then produce a performance like that!
It shows we have still got the grit, the desire and the determination to go out there and put in a performance like that."
Nobes got us together before the game and, with a couple of swear words in there, told us we had to be up for the game today.
It's a London derby, we hadn't won in eight and if we'd lost we would have been bang in trouble and we knew. We worked on our game plan and frustrated Chelsea and even thought it was one-nil, I thought it could have been much more. We thoroughly deserved to win today and you can see I'm absolutely buzzing!"
"We're buzzing in the changing room but focus has got to turn to Wolves now. There's no point putting in a performance like that and then going to Wolves and getting turned over because then we're back in the deep end.
We've got the confidence back now, which hasn't been there on match days, when we haven't really been turning up, so we're going to go into that Wolves game with 100 per cent spirit and desire and hopefully we can get another three points."