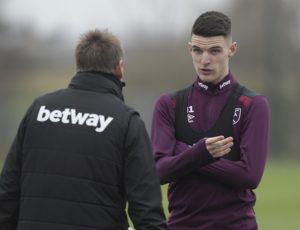 Declan Rice will know he has anther big job to perform for the Irons against Huddersfield tomorrow (Sat) before heading off for the proudest moment of his young life with England.
His decision to do so is still rankling with many – and even Irish Hammers – but his decision is made and all that remains now is for him to step into the Three Lions side.
And that could easily come against the Czech Republic in a European Championship qualifying game next Friday evening, with the Euro 2020 odds showing England as favourites to progress.
After all the praise he has received expectancy levels will be at their highest surrounding a West Ham United player for many years.
That the 20 year old is worth his chance is in no doubt – now comes the tome to deliver and there aren't many who don't believe he will do so.
One former player who knows Rice's abilities and personality well is Stuart Pearce who was of course Hammers assistant boss last season and he has been looking even further into his international future.
He has been discussing whether our defensive midfielder has the ability and character to become the Three Lions skipper.
Speaking on Talksport he said: "His worth for West Ham is where he's playing at the moment. I think playing there is ideal for him at present. I think somewhere down the line in his development, he'll drop back into a back four or a back three.
"I don't see any reason why not [he can't be England captain]. It depends on how he develops as a man."
"On working with him, on footballing years, he's above his years.
"This will only be good for him to work with Steve Holland, Gareth Southgate and rub shoulders with some of the top players in the Premier League."