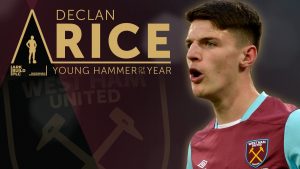 Declan Rice's in the first team arrival raised another question over Slaven Bilic's tactical approach yesterday afternoon.
It's an issue that has been raising its head at various times since he chose to play Michail Antonio at right back claiming he could become one of the best in the league.
Yesterday we saw yet another example of it when the 18 year old was given his first team debut out of position in front of the back four instead of within it.
That really is a very big ask for a kid who has played at central defence most of his young life and that he got on with it in such style is a mark of how big this boy is going to be.
When I first read that Winston Reid had injured himself in the warm-up I consoled myself with the thought that at least we wuld see young Declan in his natural position.
But instead we saw Jose Fonte and Angelo Ogbonna thrown together in what proved to be horrendous partnership with an end result of three more goals against.
Whilst that was going on Rice was showing the sort of ability and composure in front of them which was so badly needed at the back.
We saw the boy bossing around his more experienced teammates, telling them where they should be, who to mark and who they should pass to.
And at one time he gestured to 14 years his senior Pablo Zabaleta to slow down and take some time before delivering throw in – remarkable!
He was always checking his position and that of others and spent the afternoon filling in whenever danger threatened.
He, Hermandez and Sakho are the plusses from the Southampton match but how much better will the kid become if he is given the chance to play in his preferred position.
It's hardly a big deal because Fonte is not the answer at any time, Collins has a habit of throwing three or four games together before the mistakes start and Ogbonna is bang out of form.
Meanwhile Reece Oxford and Reece Burke have been allowed out on loan – hmmm makes you think!
COME ON YOU IRONS