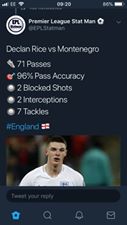 Declan Rice's stats from last night's international in Montenegro defy the critics who have been tearing into his performance on Twitter.
One comment claimed that he was poor man's Scott Parker's whilst others wrote off his display as less than average.
And on the BBC website – under a player ratings article – he scored 4.12 which is the lowest of any England starter last night and the fourth lowest rating of any player on the pitch.
There are others who claim that "bigging up " players, as has been the case with Rice this, site doesn't help them although the avalanche of praise from players, managers, pundits and fans from everywhere this season doesn't seem to have harmed the defensive midfielder's progress to full international status.
His stats from last night tell the full story of his game and speak louder than any words from journalists or fans whose opinions are of little value alongside the numbers.
The bare stats above need a few words of explanation and here they are:
Pass completion 96% (highest in England's starting XI)
Tackles 6 (most for England)
Interceptions 2 (most for England)
Blocks 3
Defensive midfielders aren't always the most appreciated among some!