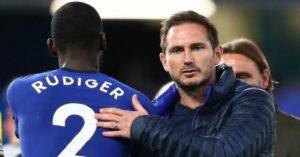 Any hopes – and they have never come from his own lips – that Declan Rice has of wanting  to join Chelsea appear to be fading and dying daily.
The reality is that Frank Lampard – with whom the Hammers top man is reported to have some sort of relationship – is becoming a heavier and heaver favourite to be the next managerial sacking.
His job has been reported to be on the line  for several weeks and his odds are now as tight as they have ever been at 11/10, Firmer news of possible replacements for the former Hammers midfielder is also emerging.
According to various reports both Brendan Rodgers and Ralph Hassenhuttl are on the Roman Abramovich list of candidates for the job.
Should the seemingly inevitable take place it seems fair to believe that any new manager will have his own list of candidates lined up as new squad additions which are likely to include those who have played for him now or previously.
The Hammers have consistently claimed there have been no inquiries for Declan and the player has already made it clear Manchester Unite doesn't interest him as he wants to remain in London.