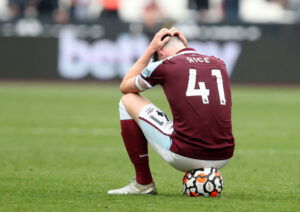 Declan Rice is as aware of the fans reaction to the current Hammers slump as anybody else and has pleaded for patience from us all.
Like the rest of the squad he could hardly be more unhappy about the club's position and has once again talked about us not being far from turning it around,
Some may disagree but nobody will be pointing any fingers at the captain who has shown game in game out that he will play his heart out for this club..
And he reminds all of us that he entirely aware of the quality in the squad declaring he sees  day in and day out in training.
He adds that we signed the players in the summer and it's up to us to be out there, pushing, driving, giving everything for the badge and giving everything for the fans.
And addressing the fans he makes it clear the squad needs their support saying per www.whufc.com: "I read a lot of stuff and fans are always going to voice their opinions.
[The fans] have seen the signings we made in the summer and have seen us underachieve. They want to see West Ham back where we should be. So look, I fully agree with them.
After the last two seasons, this season was exciting to go into, but we are letting ourselves down at the moment. I understand, but from me and the lads, but you will never see us mentally check out, never see us not giving 100 per cent.
A couple of wins changes it – it's not far away but it's not going exactly the way we want it at the minute. Stick with us, stay positive."
As captain, I will keep trying to push everyone and give everything for this team."