Declan Rice surprised football fans up and down the country with a rendition of Ice, Ice, Baby on Twitter on Tuesday night!
The England international joined a Twitter space called Sing Your Dialect, where a variety of random stars log in and belt out some karaoke.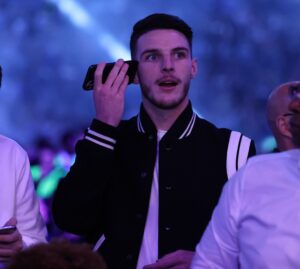 Rice tuned in and was picked by the host to sing a song, choosing Vanilla Ice's huge mid 90s hit.
Not only did he sing, but he rapped too, with Squawka posting a recording of his rendition, although he did change the lyrics to Rice, Rice, Baby.
The Hammers skipper had over 76,800 listeners in the space, and the Squawka tweet has subsequently gone viral, with over 1,500 retweets and over 8,000 likes.
Clearly, Declan was just having a bit of fun and you can listen to his song by clicking the link above.
Be warned… the vocals are a tiny bit dodgy – probably stick to the football, Dec!