By Gonzo
Reims manager Will Still says West Ham would be his dream job in the future, when he decides to leave Ligue 1.
Still is doing an amazing job at Reims this season having lost just once in the last 19 games. Last week, Reims held PSG to a 1-1 draw, with Arsenal loanee Folarin Balogun, a player Still has transformed into a deadly assassin, scoring their only goal.
Despite being raised in Belgium, Still came to England to study, and his favourite club is our very own West Ham. Born to English parents, who moved to Belgium shortly before he was born, Still has had an unorthodox rise to prominence.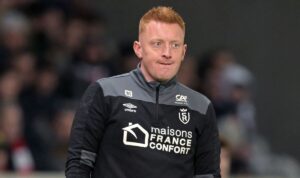 His first job was as youth coach to Preston's under 14's team, but it's his admission that he partly learnt the art of management from a football simulation game which has really caught people's attention. Remarkably, Still is only 30 years of age, and has no professional playing experience which makes his meteoric rise even more unfathomable.
Speaking on talkSPORT, Still stated his desire to manage in the Premier League one day, naming The Hammers as the club he's always supported.
"If I say (what my dream job is) I'm scared other teams aren't going to ring me up! But West Ham, (it would be) West Ham. I've always been a big West Ham fan," said Still.