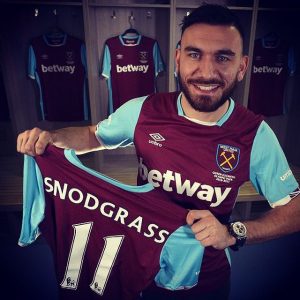 Most Premier League chances created in 2017:
Christian Eriksen (19)
Alexis Sánchez (14)
Robert Snodgrass (13)
Mesut Özil (12)
As the statistics, Snodgrass, who signed for the Hammers in the January transfer window has created 13 goalscoring opportunities in 2017, which is one more than Arsenal's Mesut Ozil.
Snodgrass has produced just one fewer chance than Ozil's teammate Alexis Sanchez, while Spurs Hotspur midfielder Christian Eriksen leads the way with 19. Overall this season, Snodgrass has scored seven league goals and produced three assists for Hull and he left the KCOM Stadium as the club's top scorer.
The midfielder has made just two appearances for the Hammers, one off the bench, for the Hammers so far, but after looking at these stats the Scots man is a good compromise replacement for the disloyal Frenchman whose name I forget.