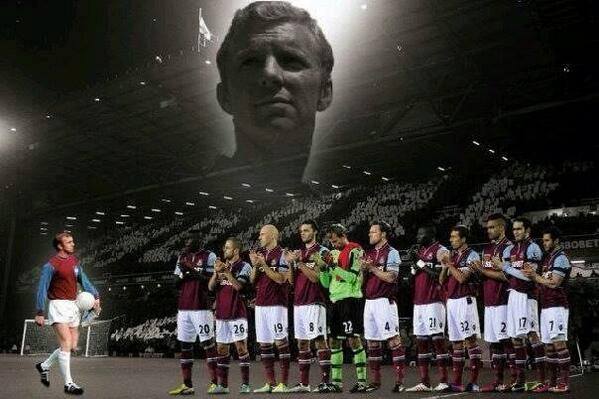 Roberta Moore is thrilled to bits that her Dad – the one and only Bobby – will be remembered as the the centrepoint of the development which is set to replace the Boleyn after its sale was announced today!
WHUFC has come to an agreement with the Galliard Group for the sale of the ground and it was immediately revealed the central area will contain 'The Bobby Moore Gardens' and that a  statue has already been  commissioned.
Galliard have asked world-renowned sculptress, Frances Siegelman, to create the statue and other artwork celebrating the heritage of the Football Club, which would be located in the gardens and grounds of the new village.
Roberta – speaking to the official site said: "The move away from the Boleyn Ground is always going to be a sensitive and emotive topic for West Ham United and its fans and it is one with which I empathise and totally understand
"That's why I was pleased to learn about Galliard Homes' plans to recognise the club's contribution to the history of Upton Park.
"I have always believed that there should be some form of permanent West Ham United presence at the Boleyn Ground site after the team leave and I'm really pleased that they plan to name the centre point of the development in honour of my father."
Galliard Group's plans would see  'The Bobby Moore Memorial Gardens' become the focal point of the development and  Roberta hopes that it will serve as a permanent reminder of the Hammers' time at the Boleyn Ground.
"I would love to see the Bobby Moore Memorial Gardens become a place that Hammers fans can visit to share their memories of watching the team at the Boleyn Ground.
"Hopefully the new sculptures and buildings being proposed will also help ensure that a lasting legacy to the Club, my father and his team-mates are left at the site.
"The Upton Park area will always have a special place in West Ham United fans' hearts but time moves on and I am excited about the move to West Ham's new home in 2016.
"I know my father would have been very proud about calling such a venue as the Olympic Stadium West Ham United's home."