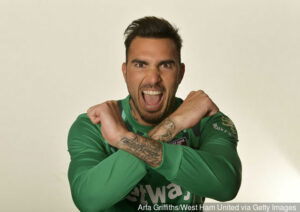 West Ham's out of favor keeper Roberto could be loaned to a club in Turkey this winter to both make room in the squad and to save on his wages.
With no credible way back for the Spanish keeper both sides will want to cut their losses and save as much face as possible. The first priority would be to try to arrange a permanent transfer for the 33-year-old keeper but if there is no appetite a loan would be the second best option.
Jacob Steinberg writing in the Guardian has pointed out 'they are aware it may be difficult to fetch a fee for Roberto, who has 18 months left on a contract worth £30,000 a week. West Ham will consider loaning him if they do not have to pay his wages and it is thought Turkey is a possible destination.'
The original recommendation to sign Roberto came from Director of Football Mario Husillos who has become under increased pressure with a number of his signing not performing this season. That could led to his early departure with a return a Spain rumoured for the 60-year-old.