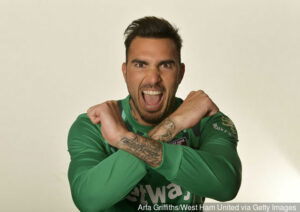 West Ham goalkeeper Roberto is also set to return from his loan with Spanish club Alaves which expires later this month.
The 34-year-old Spaniard joined the Hammers from Espanyol last summer and deputised for the injured Lukasz Fabianski but suffered disastrous form and a lack of confidence.
His series of high-profile mistakes are blamed for the sacking of Manuel Pellegrini and the current relegation battle the Hammers find themselves in.
Roberto still has 12 months left on his West Ham contract.
During his time at West Ham, Roberto conceded 17 goals, including three in three successive games in December 2019.
Spanish La Liga is due to return on 11th June but with Roberto is yet to make an appearance for the Spanish club and likely to return at the end of the month his loan expires.
Alaves are unlikely to want to make the loan permanent or extend the loan until the end of the La Liga season.