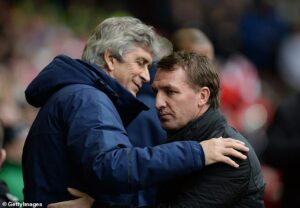 Brendan Rodgers previously confirmed that he rejected an offer from West Ham in 2017 to remain at Celtic before  David Moyes and Manuel Pellegrini were appointed.
In 2017 it was revealed by the Scotsman newspaper that both West Ham and Swansea City had attempted to prize the Irishman from Glasgow. When those names were put to Rodgers at the time by the Scottish newspaper he did not disagree or try to correct them.
The approach to Rogers by the Hammers has been brought up again presumably because of the success Rogers is achieving with Leicester City after they went second yesterday following their 2-0 victory over Arsenal.
Speaking to a West Ham insider over the weekend Claret and Hugh were told that in fact Celtic refused permission for West Ham to speak to Rogers so reality there was no offer for Irishman to reject.
The Hammers went on to appoint David Moyes instead in November 2017 while having a gentleman's agreement with Manuel Pellegrini to join them after he had finished in China.