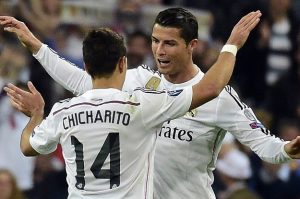 Real Madrid's Cristiano Ronaldo has put a spoke in the wheel of any hopes the Hammers may have of signing William Carvalho in January.
The Hammers are still hoping the feud between themselves and Sporting Lisbon will have cooled sufficiently for them to return with another bid in the window with Sporting apparently ready to let him go for around €35 million.
But the former Manchester United Portugeezer Ronaldo reckons he is reported as believing he is exactly the player needed at Real and has urged the club to sign him.
He has reportedly told Real Madrid president Florentino Perez to sign the player according to reports from Spanish outlet Don Balon.
Carvalho, 25, is  a team mate of the 32 year old Ronaldo in the Portuguese national team and could be on his way  to joining him at the Bernabeu.
He would be brought in to shore up the defence and could partner Sergio Ramos at centre-back.