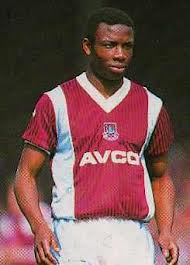 Irons boss Sam Allardyce today declared he was very much in charge of the new  appointment of atttacking coach  in his first interview since the board meeting which confirmed his position as Boleyn boss
And it emerged for the first time that the club – apart from agreeing to the appointment of an attacking coach – will also be putting a 'Head of Recruitment' in place.
And the 59 year old manager was quick to point out that he would be the man deciding who filled both posts.
He's quoted on www.whufc.com as saying: "I'm enthusiastic about that idea. The appointment is absolutely down to me and the challenge is to find the right person to help us score more goals next season, because that is what we need to do.
"Regarding the plan to appoint a director of recruitment, I would say there is always the need to expand that section of an ambitious football club."
But former Hammers striker Leroy Rosenior – who played alongside the likes of  Ray Stewart, Tony Gale, Alvin Martin, Alan Devonshire, Paul Ince and Liam Brady – speaking exclusively to ClaretandHugh said: "At the end of the day it's Sam who has to change.
Leroy was a striker in the Andy Carroll mould who played 53 games and scored 15 goals for the Hammers in the late 80s/90s before he moved on following a bad knee injury.
Leroy said: "Sam has been told that he has to finish in the top ten and that he must play entertaining football so he has absolutely nothing to lose does he because presumably if neither happens he'll be sacked anyway.
"I want to see him entertain. I think he can as he managed it at Bolton at times. But let's be honest it was desperate at our place last season. I speak to the fans and they weren't happy – that's putting it very mildly.
"I think the board and Sam are trying to show the fans they are doing something. There's really nothing very new in having a coach work with the front man although I'm not sure what the head of recruitment thing is about.
"At the end of it all everything is down to the manager. Simpler and with this new freedom let's hope we see something better. The job until now has been about survival.
"The board are clearly changing direction and now – as I say – the manager almost has a blank cheque to go for it. I really hope he does that."
TOMORROW: Leroy talks about the problems facing Andy Carroll
Leroy is honorary patron of 'Show Racism The Red Card' and a Trustee of 'Kick it Out'