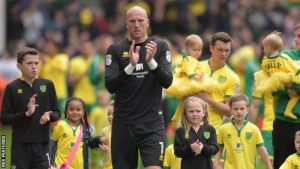 According to the Daily Mail, West Ham has held talks with goalkeeper John Ruddy about a summer move following his release from Norwich City.
Thirty-year-old Ruddy joined Norwich from Everton back in the summer of 2010, having made just one first-team appearance for the Toffees following a 2005 move from Cambridge United.
The shot-stopper racked up 243 appearances for the Canaries making 27 appearances this season, but Norwich chose to let him leave the club this summer, refusing to extend his contract which will expire at the end of June.
 Ruddy said he was "not massively" surprised about being released by the Championship club this summer after seven years.
"It's disappointing obviously, but I think the direction that the club needs to go, it's a rebuild in structure," Ruddy told BBC Radio Norfolk. "For reasons other than football, it was a decision that was made."
Ruddy, whose final match for the club was their 4-0 win over QPR, continued: "The club did have the option on me, but mitigating circumstances within that contract meant that it was probably impossible for the club to uphold that. It was nice that we were told when we were and nice that I was able to go out in this manner on Sunday."